Share Current Page
Political Data Systems offers a wide range of voter data services to Georgia candidates, PACs, and other organizations requiring quality data for targeting voters.


Order your voter list from us.
You'll get more than just a list!
In a hurry? Many lists can be downloaded*

You'll get a complete package offering:

Phone Number Append
One update (primary or general, upon request)
Order for 2012 NOW and get:
10% discount (less than 2 cents per name)!
Additional May (post-qualifying) list update!
Contributions History (Now Available! Jan '10).
Last minute Registrants List (upon request)
Full featured software package allowing you to:
Print Walk-lists (several formats).
Print Call-lists (several formats).
Export for Phone Banking.
Generate electronic "Poll" lists.
Tag voters with your own information:

Match by address / name / voter id
Church Lists
Contact Lists
Customer Lists
Target with them!

Target voters by vote history.
Target known contributors.

Identify Federal campaign contributors.
Identify State campaign contributors.
Filter out unlikely future contributors.

Target voters by demographics:

Age
Race
Gender
Precinct
Street
... and more ..

National "Do Not Call" flag included.
Individual voter lookup and update.
Export for Direct Mail.
*Most county, legislative, and municipal lists and software can be
downloaded within 24 hours!

Order Now!


Political Data Systems provides data, software, and custom analytical services for its clients via our Enhanced Voter Lists, our online Custom List system which allows you to select and download voter lists immediately, our user-friendly voter list query and reporting software (Voter Selection Utility), and custom analysis and data compilation using in-house programming talent. Feel free to view our current online Voter Statistics and Demographics or download our Voter Selection Utility software demo for a taste of what PDS has to offer.

You can build and download your own custom list of targeted voters using our Custom List service. This system allows you to play "what-if" scenarios until you compile a list of voters which suits your needs and budget. Once you've gotten your target list built you can purchase the list and download right then. The advantage of this method is you get your list immediately at a good price.

Our most popular product, offering the best value for those targeting multiple groups of voters using differing contact strategies, is our Enhanced Voter List, an offering that includes more than just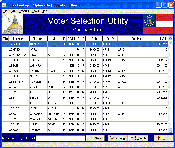 a list. Our "Voter Selection Utility" (VSU) comes with every Enhanced Voter List. VSU allows you to select voters by age, race, gender, party affiliation, liklihood of voting, vote history, and a wide range of other parameters. This list can be purchased as a "one time" buy or as part of an update service where you'll recieve regulary updated lists with new voters. This may be purchased on-line.

We also provide New Voter notification, allowing you to identify new constituents to send a welcome letter or information packet to. Contact us for more information.

What better way to be remembered by constituents than by sending them birthday cards? We can provide you with upcoming birthday updates. Feel free to contact us for more information.

Finally, we can send welcome letters and birthday cards for you, with our automatic constituent services products.